Solid and Liquid Waste Removal Services | Elmer, NJ
Proudly serving Cumberland, Gloucester & Salem Counties
Specializing in cleaning septic tanks, seepage pits and grease traps. Installing and repairing septic systems, as well as conducting septic system evaluations.
Evaluations start by finding the septic tank and disposal area. We recommend for the homeowner to be familiar with this location. For newly constructed septic systems, there should be a copy of the design plans. For older existing systems, simply diagramming the location to septic system components, measured from a common point on the building, is sufficient.
The septic tank is then pumped to remove all liquid and solids, enabling the inspection of the concrete inside the tank, the baffles, and the disposal field or seepage pit. The disposal field is probed, and the water level is checked. The ground surface is checked for moisture and odors.
An evaluation of each fundamental component leads to a conclusion about the overall system's condition. An evaluation is not a warranty or guarantee that the system will properly function for any period in the future.
Septic Install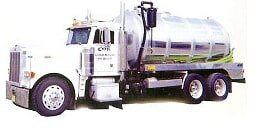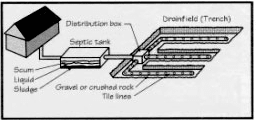 David Hitchner & James Cheeseman are registered with the National Environmental Health Association & certified installers for advanced treatment plants by the Pennsylvania Septage Management Association, widely recognized as the leading septic system authority in the area.
A septic system is composed of only two fundamental components.
A septic tank which allows the settling of solids and the retention of floating material.
An absorption area which allows the wastewater to infiltrate into the soil.
Septic System Cleaning & Maintenance
Your septic system should be pumped on a regular basis due to solids always accumulating in an operating system. Depending on the # of persons in the household the tank should be pumped as follows.
Newly installed system up to 2 persons pump every 5 years.
Older or more poorly maintained system with 3 or more persons pump every 1-3 years.
1,000 Gallon Minimum.
Bioactive- Septic tank treatment dissolvable packets are available to keep your septic system working properly.
Additional services include the following
Excavation
Snaking Lines
Inspections/ Evaluation
Hydraulic Load Testing
Filter Cleaning
Enrollment in our Annual & Quarterly Septic Reminder Program