Trash and other forgotten belongings can pile up. These items can create unsanitary conditions if not properly cleared out. C & H Disposal Service, Inc. offers a safe and sufficient solution with convenient roll-off container rental services. We provide dumpsters for commercial construction and home renovation projects, along with remodeling, recycling materials, and residential cleanouts in South Jersey including Salem, Cumberland, Gloucester, Camden and Atlantic counties. Learn more about our various roll-off containers and the different rental options we provide.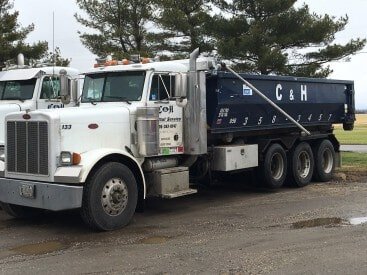 Our Roll-Off Containers
The waste removal needs of each client can vary. To help accommodate all of our customers, C & H Disposal Service, Inc. delivers roll-off containers in a range of sizes. Options include:
12 cu. yd. – 12 ft. x 8 ft. x 4 ft.
20 cu. yd. – 22.5 ft. x 7.5 ft. x 4 ft.
30 cu. yd. – 22.5 ft. x 7.5 ft. x 6 ft.
40 cu. yd. – 22.5 ft. x 7.5 ft. x 8 ft.
For tight spots, we also offer 10 & 12 cu. yard luggers and front-loader dumpsters.
For each sized container, a standard rental period is 10 days. Should clients need additional time, we do offer extended rental periods for an additional fee. We ask for at least one day's notice to get the delivery/pick up into our schedule.
Clients should be aware that not all waste can be disposed of in our roll-off containers. Items that cannot be thrown out in our containers include but are not limited to:
Hazardous/flammable materials
Oil or oily rags
Batteries
Paints and paint thinners
Propane tanks
Televisions
Tires
Fluorescent tubes
Industrial waste
Medical waste
Pesticides and herbicides
Please note: Paint containers may be allowed if filled with a substance that can dry up the material, such as cat litter.
These kinds of products often require more complex recycling due to their sensitive constructions. If you need to eliminate items like these, reach out to local waste management programs to see where you can drop them off.
Additionally, some items may only be allowed in our containers if you pay extra disposal fees. These include:
Appliances: Must be placed at the very back of the container by the door (each appliance accrues an additional fee)
Asbestos: Must be placed in a separate bag and marked (extra fee for landfill preparation)
Tires: Fewer than 10 tires can be added to a container, but they must remain visible at the top (each appliance accrues an additional fee). Tires found within the load will incur a violation and fee.
Benefits of Roll-Off Waste Containers
Whether you are a homeowner, business owner, or property manager, chances are you could benefit from having a roll-off container on your property. The main objective of our roll-off container services is to provide clients with a safe place to collect and contain trash. Clients who opt for our rental services can also expect the following advantages:
Create a Safer Environment
Build up of debris and other wasteful material is a recipe for disaster. Trying to navigate through such a setting can lead to potentially serious injuries that could have been avoided. Our roll-off containers help keep your property safe and organized. Furthermore, properly disposing of waste helps minimize the risk of fires and similar hazards.
Help Maintain Good Hygiene
As a safe place for you to dispose of items that may contain bacteria or viruses, a trash container allows you to encourage and maintain good hygiene practices. With our roll-off waste containers, you are better equipped to stop the spread of illness and keep areas around your property safe and clean.
Can Encourage Recycling
You can recycle many types of waste, and having a roll-off container dedicated to these items helps simplify recycling. They also promote green practices; recycling roll-off containers reduce the amount of waste in landfills and conserve natural resources, as many recycled materials can be used to create new products.
Potential Increase in Property Value
Overflowing waste can severely hinder the value of your property. Homeowners and commercial business owners can help increase the value of their property by tidying up their space with help from our waste containers.
Tips for Using Roll-Off Containers
You can begin experiencing these benefits once you receive your containers from C & H Disposal Service, Inc. Consider the following reminders to get acclimated with our process:
Container should be placed in an area away from tree limbs and electric wires
Debris should be loaded flush with the top of the container
Weight should be distributed evenly within the container
Customer is responsible for physical damage to the container
Call the office for pick up
Make sure the back door is shut and secured properly before collection
Ensure no vehicles are parked in front of or on the sides of the container
Unlock gates to ensure easier access to the container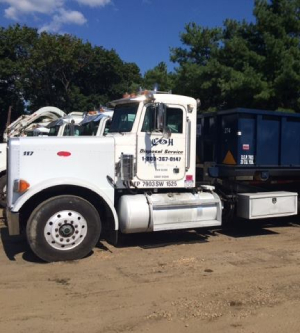 When you need to dispose of leftover material from a project or items that are building up and creating potentially hazardous scenarios, C & H Disposal Service, Inc. has the solution for you.
We are pleased to offer clients throughout NJ, including Salem, Cumberland, Gloucester, Camden and Atlantic counties convenient roll-off container rental services. Throw away items into our containers that are cluttering your space and watch our team roll them away. Contact us today to learn more about our roll-off containers, septic services, and other offerings.
**** Contact your local landfill for more information ***