Homeowners and commercial businesses that cannot access curbside waste removal pickup services are usually responsible for taking refuse to landfills themselves. This can lead to residents and personnel making multiple trips and possibly damaging personal or company vehicles, depending on the kinds of items they are transporting and the size of their hauls.
The team at C & H Disposal Service, Inc. offers a solution. Serving homeowners, contractors, building contractors, real estate brokers, and commercial business owners in South New Jersey, we provide front-load dumpster rentals, roll-off containers, and similar items. The days of hauling waste materials to a landfill are over. Learn more about our front-loader services and the various rental options we provide.
Our Front-Loaders
The waste removal needs of residents and businesses will vary depending on lifestyle and operations. To accommodate all customers, we offer front-load dumpsters in various sizes. Our front-load dumpster sizes include:
2 cu. yd. – 6 in. W (width) x 3 in. H (height) x 3 in. D (diameter)
4 cu. yd. – 6 in. W x 4 in. H x 5 in. D
6 cu. yd. – 6 in. W x 5.5 in. H x 5.5 in. D
8 cu. yd. – 6 in. W x 6 in. H x 6.5 in. D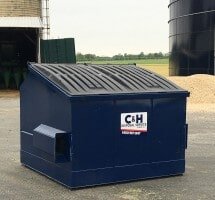 To better serve our customers, we offer waste removal Monday through Friday, as well as flexible service options, including weekly, bi-weekly, or monthly. Please be advised, we will need at least one day's notice to incorporate the delivery/pick-up into our schedule.
While our front-loader dumpsters are great alternatives for most waste, they are not a solution for all materials. Prohibited materials for disposal in front-load dumpsters include:
Large pieces of metal or wood
White goods
Tires
Pallets
Furniture
Paints
Batteries
Bricks or concrete
Brush or stumps
Dumpsters must be kept free of surrounding debris and all trash must be kept flush with the height of the container, allowing for the lid to close. Under no circumstances should you pile waste on top of the dumpsters. Clients should be aware that over-filled dumpsters or those containing prohibited materials will incur an additional fee.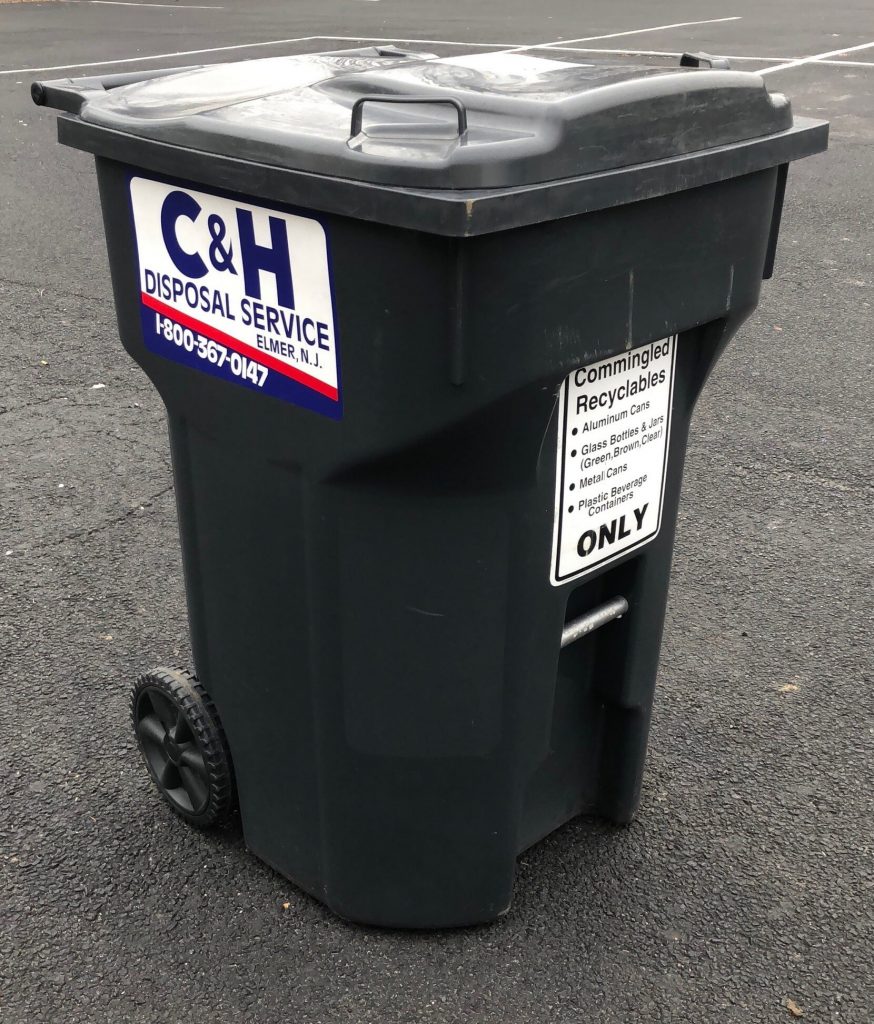 Other Options Available and Additional Information
Under New Jersey State law, both residential and commercial properties are required to recycle. C & H Disposal Service, Inc. provides front-load dumpsters for cardboard (2, 4, 6 & 8-yd.) as NJ law requires cardboard to be separated from regular trash. We also supply 96-gallon toters for glass, plastic, tin, and aluminum, as NJ law also obliges residents to recycle these materials in their designated receptacles.
Cardboard Dumpsters
Pick-up days are Monday, Wednesday, and Friday
All cardboard boxes must be broken down
Do not throw glass, plastic, or any other waste items into the cardboard container (failure to comply may result in a contamination fee)
96-Gallon Toters
Toters incur a flat monthly rate and are serviced on Wednesdays
Do not throw trash, or cardboard into the toters (failure to comply may result in a contamination fee)
Clients interested in our services should know that the first month's rental fee is due upon the delivery of the front-loader rental. We offer service agreements for one year to help clients get the lowest price. We offer additional pick-ups to clients if needed, which will be billed accordingly.
Call Today about Our Front-Loader Dumpsters
If you need scheduled waste removal services for your home or business, count on the professionals at C & H Disposal Service, Inc. With over 45 years of experience, we are dedicated to providing our clients with superior customer service and unmatched prices. In addition, we are happy to offer customers free estimates to give them a better understanding of their financial responsibility. We serve clients in various areas throughout NJ, including Salem, Gloucester and Cumberland. Contact us today to learn more about our front-loader dumpsters, portable toilets, septic services, and other offerings.