Sizes of the Front Loader Dumpster
We provide front-load dumpsters for residential and/or commercial business that are located in an area where curb side services are not provided, so that our customers can avoid hauling loads of trash/recyclables to the landfill. This is an easy and convenient way for you to get rid of your waste.
Solid and Liquid Waste Removal Services | Elmer, NJ
Proudly serving Cumberland, Gloucester & Salem Counties
Dimensions
2 CU YD – 6′ W x 3′ H x 3 D'
4 CU YD – 6′ W x 4′ H x 5′ D
6 CU YD – 6′ W x 5.5 H' x 5.5′ D
8 CU YD – 6′ W x 6′ H x 6.5′ D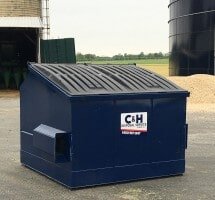 Pick-up days are Monday through Friday according to area and we provide flexible service options, including weekly, every other week, or monthly. We ask for at least 1 day notice to get the delivery/pick up into our schedule.
C & H also provides front-load dumpsters that can be rented on a weekly basis or for the weekend.
Prohibited materials for disposal in front-load dumpsters include the following.
Large pieces of metal or wood, white goods, tires, pallets, furniture, paints, batteries, bricks or concrete, brush or stumps.
Dumpsters must be kept free of surrounding debris and trash and all trash must be kept flush with the height of the container allowing the lids to be closed. No trash is to be piled on top of the dumpster(s).
Over-filled dumpsters or those containing prohibited materials, will incur an additional fee.
Did you know that it is required by the State of New Jersey to recycle for both residential & commercial locations? C&H provides front-load dumpsters for cardboard (2, 4, 6 & 8-YD) and 96-gallon toters for glass, plastic, tin & aluminum making it easy for you to comply with state requirements.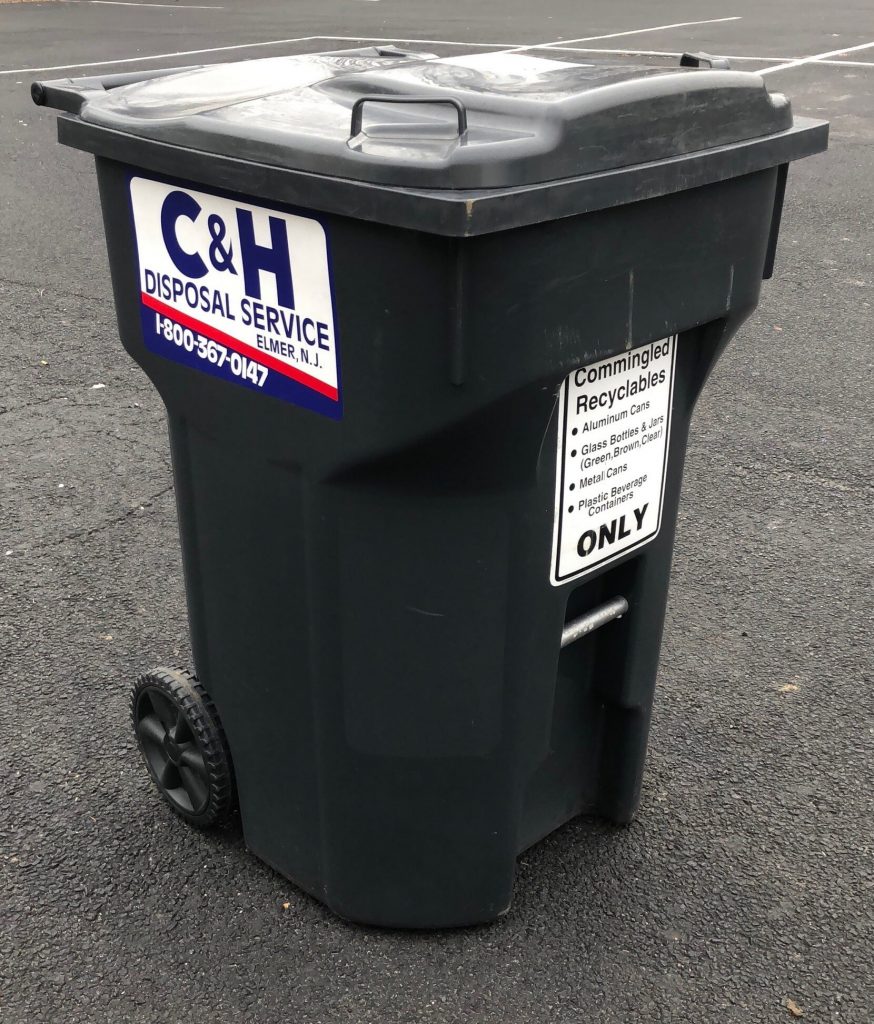 Cardboard Dumpsters
Pick-up days: Monday, Wednesday & Friday
It is required by state the State of New Jersey to separate cardboard from trash.
All cardboard boxes must be broken down.
Do not throw glass, plastic or any other waste items into the cardboard container, otherwise this might result in a contamination fee.
96-Gallon Toters
Toters are billed at a flat monthly rate & serviced on Wednesdays.
It is required by state the State of New Jersey recycle glass/plastic/tin/aluminum in the appropriate receptacles.
Do not throw trash or cardboard into the toters, otherwise this might result in a contamination fee.
Additional Information
The first months rental fee is due upon the delivery of the dumpster(s).
A service agreement for 1 year is provided to lock you into our low prices.
Additional fees for extra pick-ups will be billed accordingly.