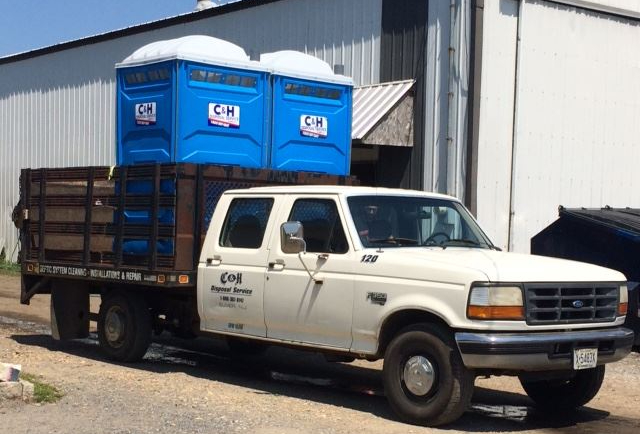 Portable restrooms are one of those amenities where you might not realize how essential they can be until you don't have one. Suitable for various purposes and events, including construction sites, parties and weddings, farms and nurseries, and even just to have by the pool for BBQs, these facilities are beneficial for promoting sanitation. In some cases, portable toilets may be necessary to comply with OSHA guidelines and similar regulations.
C & H Disposal Service, Inc. offers numerous portable toilet rentals to meet the different needs of our clients in Southern Jersey. Discover our options to see if we can help you maintain sanitation at your worksite or event.
Our Portable Toilets
The need for an outdoor restroom can vary based on the client's intended use. To better serve our customers, C & H Disposal Service, Inc. offers a variety of portable restrooms, including:
Benefits of Portable Restrooms
The uses for a clean, alternative outdoor bathroom are seemingly endless. You may be amazed to discover all the situations in which a portable restroom would come in handy. Reasons to consider adding a portable toilet for your next occasion include:
Enhanced Flexibility
Perhaps the greatest benefit of renting a portable restroom is the flexibility it offers. Because they are intended to be portable, clients can place them just about anywhere that suits their needs. C & H Disposal Service, Inc. works closely with clients, inspecting their space to determine the most ideal location for portable toilets. We suggest locations that are close enough that they can be easily accessed but out of the way enough to promote privacy.
Convenience
Finding a suitable restroom can be difficult when attending an outdoor event. If guests need to venture too far to find permanent restrooms, they are likely to become frustrated with the event organizers. Portable toilets bring these facilities closer, making it easier to locate restrooms.
Protect Indoor Bathrooms
For many outdoor events, indoor bathrooms are available but may not be ideal for property owners. You can safeguard your private bathroom by opting for portable restroom rentals. A short-term restroom rental can help make all the difference and protect your property.
Call Today to Request a Portable Restroom Solution
Whether you're remodeling your home, hosting a large outdoor gathering, or need a seasonal restroom, choose C & H Disposal Service, Inc. We are proud to be a premier portable toilet supplier throughout South Jersey, including Cumberland, Gloucester, and Salem Counties. Contact us today to learn more about our portable toilets, septic services, containers, and other offerings.